A book review of "The carpenter who helped to build Pimlico, a fascinating history" by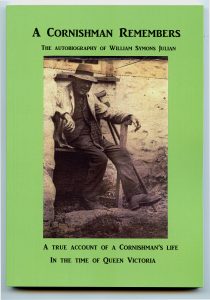 Peter Hill, Warwick Square resident.
History seldom tells us about ordinary people and it was fascinating to read the autobiography of William Symons Julian, a Cornish farm boy who learned a carpenter's trade and came to London in the 1860s and helped to build Pimlico. William's memoir was discovered in an attic by his descendants. Arriving in London on the Great Western Railway in 1865, he signed on at Wren's Marble Works for thirty-seven shillings and sixpence a week.
"Work started at 6am," he notes. "Breakfast, bread and butter with a pint of coffee brought by a boy from a coffee shop nearby at 8 o'clock was had in the workshop. Dinner I ate in a coffee shop where I could get a good dinner for sixpence. It consisted of a plate of meat or beefsteak pudding at four pence, potatoes a penny, greens a penny, and a cup of tea or coffee a penny. If raisin or jam pudding was required it was a penny extra."
As soon as one building was finished workmen were dismissed and often "there were hundreds of us with nothing coming in. I would put my tools in a carpenter's basket and start walking the streets. If I saw shavings at the entrance to a shop or building I would enter, ask to see the foreman and enquire if he wanted any hands. On Maundy Thursday 1868 whilst walking down Warwick Square wearing my silk hat (the badge of a skilled workman), with my tools on my back, a man stopped me and said, 'Do you want a job?' I admitted that I did whereupon he engaged me to start next morning."
He recalls how Buckingham Palace Road was filled with carriages and how the pavements in front of houses in Warwick Square and St George's Square were often covered with red carpet for guests arriving at receptions." One Sunday at chapel he saw "a petite nice looking country girl with a red face… wearing a crinoline." Then "… one morning after singing I asked the little crinoline girl if she would marry me." It was the start of a long marriage, children, grandchildren and relative prosperity. The family returned to Cornwall, then to Tankerton in Kent, but all along they kept rooms in Gloucester Street where they lived during the 1914-18 war.
This rare and touching memoir is not to be missed by anyone interested not only in the development of Pimlico but in the lives of the hard-working men and women who built it from the ground up.
A Cornishman Remembers, by William Symons Julian, obtainable from Ironmaster Books, Dormer Cottage, Stan Hill, Charlwood, Surrey RH6 0EP.  Email: atb@ironmasters.co.uk. Price: £9.99, Postage and package free in the UK or £3 overseas.