Coronavirus and Warwick Square
Please can all fob holders refer to the current rules at www.gov.uk/coronavirus. Any breach of these rules will be reported to the police.
WSCL Garden Committee, October 2020, on behalf of: The Warwick Square Company Limited.
---
Let Slip the Dogs of Warwick Square
An extraordinary gathering took place in the garden on Tuesday evening (June 8, 2021) to inaugurate a very special new bench commemorating the dogs of Warwick Square. The bench, with brass name plaques of beloved pets, has been commissioned by Annie Sheaf. Read more…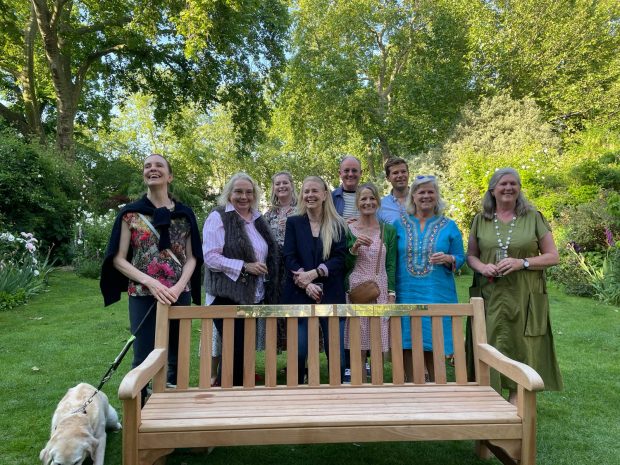 ---
It's soon time to start socialising again… Warwick Square 'Champagne' garden party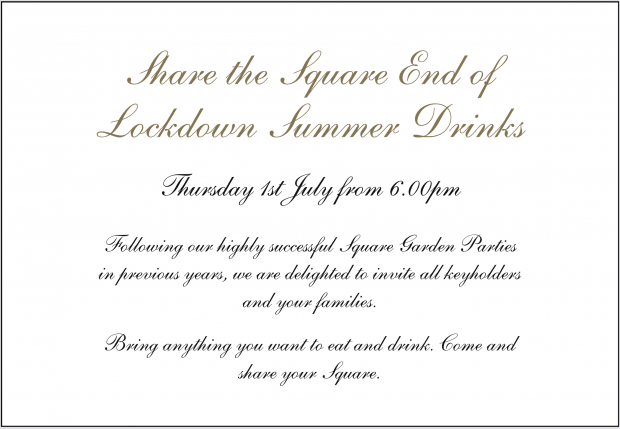 Following our highly successful Square Garden Parties in previous years, we are delighted to invite all key holders and their families to the 'Share the Square 'End of Lockdown' Summer Drinks on 1st July.

Come and meet other residents and enjoy our beautiful Square in the summer. You are welcome to come on your own – we are a friendly bunch!

As before, bring anything you want to eat and drink. Come and share your Square.
LATEST NEWS: To celebrate our return to Square sociability, the Tennis Committee is offering a welcome glass of Champagne at the 'Share the Square' on 1st July. Ace service (but please don't make too much racket, or you'll be OUT)! Now the ball's in your court… be sure to join us!
---
Please help our local MP Nickie to get Achin' leg muscles!
Our local MP Nickie Aiken is undertaking 10 walks of 10,000 steps to raise money for Caxton Youth Organisation, a specialist youth service for children and young people with learning disabilities and autism from across Westminster.
She would be very grateful if you could support her fundraising efforts by promoting her challenge amongst your members, contacts and local businesses, or making a donation yourself. For the full story click here…
---
Invitation to add to a special memorial to the dogs of Warwick Square
Dear Garden Member
Today we celebrate a noteworthy anniversary in Warwick Square. 25 years ago today, Annie Sheaf was elected Chair of the Warwick Square Garden Committee, and she is still firmly in harness!
As she is a great lover of dogs herself, to mark this anniversary Annie has asked the Warwick Square Board to install a bench in the garden to remember the many dogs who have enjoyed our garden but are sadly no longer with us. Former owners are encouraged to nominate their dog(s) to have their own plaque on the bench, bearing its name and dates in a consistent style which has been agreed with the manufacturer.
If you are a member who would like to present a plaque to commemorate your dog, please contact Lara Swycher at Frys: lara@fry.co.uk to obtain the details and the fixed cost for a plaque.
I am sure you will join me in congratulating Annie on the splendid job she has done over the years, chairing the management of what has become a gold-medal-winning historic Garden. We hope she will continue to do so for many years to come!
Best wishes
Tim Mason
Treasurer
19th April 2021
---
Local estate agent enjoys record year with sales up 15% in 2020
"Yes that is right, the busiest of my career; so much so that despite having lost nearly 2 months of physical trading, we have achieved an office record and not by a whisker but by circa 15%. I am sure you will agree this is not what you would have expected. We have also rolled over with the largest number of agreed sales we have ever had, so setting up 2021 nicely." Read more…
---
Winter wonderland blooms in Warwick Square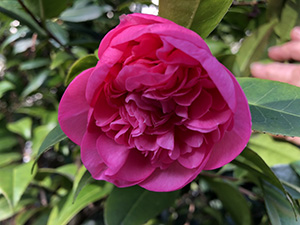 Sarah Syborn, Warwick Square head gardener, presents a selection of stunning new photographs of Warwick Square's award-winning garden. Goodness knows we all need cheering up in this bleak Covid winter. Click here
Pimlico Plan. Major Report on the Past and Future for our "Village"
Pimlico Neighbourhood Forum has produced a superb, detailed plan for the future of the area, seeking to preserve and enhance its unique village atmosphere. The lavishly illustrated document relates Pimlico's development from a swampy wilderness to Thomas Cubitt's stucco masterpiece that is still largely today's Pimlico. It looks at ways to preserve local shops and markets in the face of online retail domination and to protect residents from excessive traffic.
Click here to see this fascinating report in full.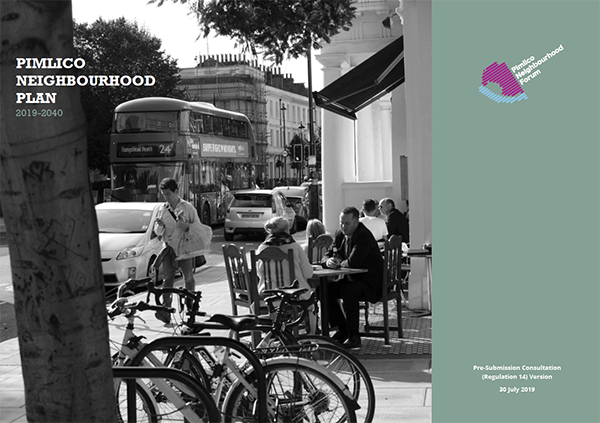 ---
An introduction to Warwick Square
Click here to read an introduction to Warwick Square from Colin Sheaf, both a resident and Honorary Chairman of the Warwick Square Company.
---
Winning blooms for Square's head gardener
The Square's head gardener, Sarah Syborn, has won two first prizes and several other awards at the 2019 International Camellia Society show at Chiswick House. "I was rather bullied into entering the show by a friend," said Sarah, "but I'm delighted."
Colin Sheaf, chairman of the Warwick Square Co Ltd, commented: "Wonderful result of being bullied. My warmest congratulations."
---
Our blooming great garden wins a fourth gold award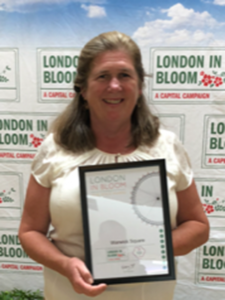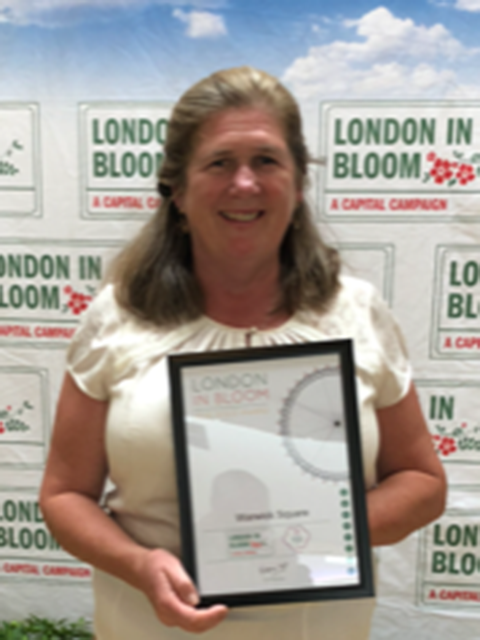 THE historic Warwick Square Garden has won gold in the prestigious London in Bloom competition for the fourth time. Head Gardener Sarah Syborn (pictured) proudly collected the award at a ceremony in London in September 2018. The judges said: "The Warwick Square Garden is a gem."
Colin Sheaf, Hon. Chairman of the Warwick Square Company Ltd, comments:
"The Warwick Square Company Board directors, and we are sure all our garden users, congratulate Head Gardener Sarah Syborn and her highly-committed colleagues Mandy, Craig and Mike for retaining this major award, and thank them very much for maintaining the high quality of planting and maintenance in our historic Grade 2 garden, admired not merely by our fob holders lucky enough to enjoy it, but nationally by some of Britain leading horticultural experts."
Click here for the full story.
---
The carpenter who helped to build Pimlico. A fascinating history.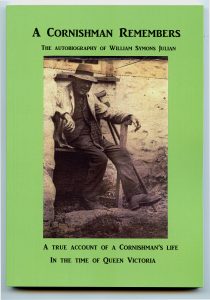 A book review by Peter Hill, a Warwick Square resident
History seldom tells us about ordinary people and it was fascinating to read the autobiography of William Symons Julian, a Cornish farm boy who learned a carpenter's trade and came to London in the 1860s and helped to build Pimlico. William's memoir was discovered in an attic by his descendants… read more.
---
What is this rare historic object?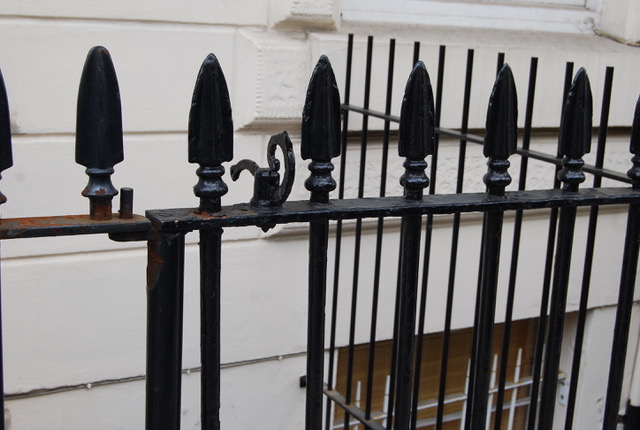 What is this rare historic object adorning railings outside a house in Pimlico? Click here to find out.
---
Warwick Square Garden – Summer Newsletter
Now that Summer has officially started we thought it would be a good time to remind all key holders of some of the events and issues that affect our Square, including:
Drinks receptions
Website
Rubbish
Dogs
Tennis
Click here to view the full newsletter.
---
We love Lorne – top new local restaurant – by Peter Hill
Had a great meal at the new Lorne restaurant in Wilton Road. The roast cod in an intriguing piquant sauce was the best I've ever tasted and my wife's choice of the hogget was superb. See the review in the Sunday Times magazine of June 16.
Katie Exton, who opened the restaurant with head chef Peter Hall, is keen to welcome locals and offers residents of Warwick Square a 10 per cent discount. Just take along some document that shows you live here.
Visit www.lornerestaurant.co.uk or call 020 3327 0210.
---
Join 'The Thorney Island Society'!
Interested in local Westminster history and the built environment, ranging from prehistoric wetlands until the 20th century? Concerned about the challenges our historic neighbour faces today from ill-considered local development? Please join 'The Thorney Island Society'… read more
---
The Warwick Square Garden is in bloom!

If you were away over Christmas I hope these photos will entice you to take a walk around the Square and enjoy some of the glories of the garden. To counter the myth that nothing grows in gardens in winter I've planted many plants and shrubs that flower during the winter months especially those with highly scented flowers. These flowers tend to be rather insignificant to protect themselves against the elements but to attract the few insects around at this time of year they have strong scents. It's possible to catch a waft of the most gloriously exotic scent and not actually see any flowers.
CLICK HERE to read the full story.
Best wishes
Sarah Syborn,
Head gardener
---
Blooming brilliant garden team win gold and silver – again!
Every year, two specialist English gardening organisations make awards for outstanding gardens, parks and community green areas within Greater London. We only began to compete a couple of years ago, and to our delight in 2015 we won Silver for the 'Large Private Square category' in the London Squares Garden Competition, and Gold for 'Small Park of the Year' awarded by London in Bloom.
I'm delighted to be able to tell you that our head gardener Sarah Syborn (pictured in the attached image receiving her award) and her three colleagues Mandy, Craig and Mick have excelled themselves even further this year, by retaining their Gold award (just announced) for London in Bloom, and raising the level of their award to Silver-Gilt in the London Squares Garden Competition. There are hundreds of applicants for these awards, so it is a major achievement to win either of the top ones once, much less twice over two years.
Please join the Company Board and me in congratulating our gardening team, preferably when you meet them in the garden! It is very encouraging that a small focused team like them, working with an entirely voluntary group of Board directors and Garden Committee members, can maintain the classic features of an historic, listed Grade 2 Victorian garden; while simultaneously adapting it into a Gold-medal winning garden, particularly admired by the judges for its deliberately environmentally-friendly aspects in a 21st-century context.
Colin Sheaf
Hon Chairman
The Warwick Square Company Ltd