---
Final Garden Square party of the summer! From 6pm on Thursday 8th September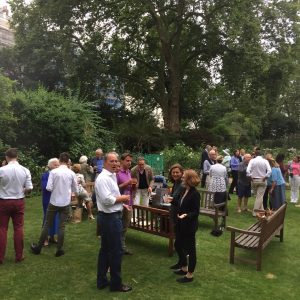 After the fantastic turnout at the drinks earlier in the month, we have decided to host one further get together before the light starts to fade. Please put in Thursday 8th September in your diary. The format will be the same as before, so please bring your own wine, glasses and food and come and meet your neighbours from 6pm.
We look forward to seeing you.
WSCL Committee
---
Calling all photographers who enjoy Champagne!
We want to record the garden in its different moods and seasons over the next five months, so we are offering a magnum of Champagne each for the three best photographic images we receive.
Click here for full details.  Entries close on Sunday 30 October 2016.
---
The Warwick Square Quiz
The quiz has now closed and the entries are being judged.  The winners' names and the correct answers will be posted very shortly.
---
An introduction to Warwick Square
Click here to read an introduction to Warwick Square from the Colin Sheaf, both a resident and Honorary Chairman of the Warwick Square Company.