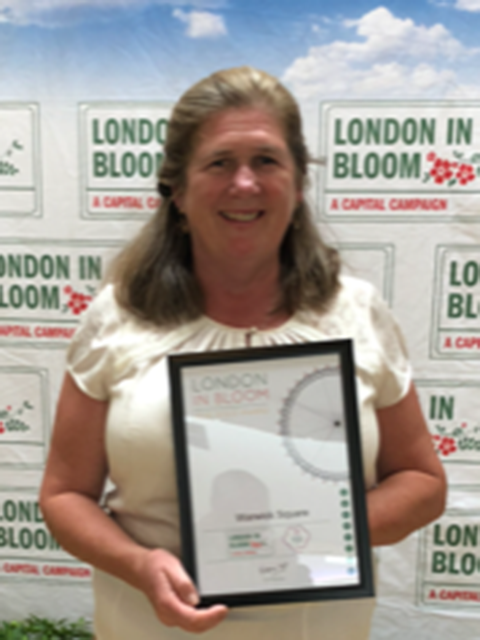 THE historic Warwick Square Garden has won gold in the prestigious London in Bloom competition for the fourth time. Head Gardener Sarah Syborn (pictured) proudly collected the award at a ceremony in London this month (September 2018). The judges said: "The Warwick Square Garden is a gem."
Colin Sheaf, Hon. Chairman of the Warwick Square Company Ltd, comments:
Few award-donors have the prestige of 'London in Bloom' among the specialist societies which monitor carefully and thoroughly the quality of London's many parks, squares and gardens as part of their national programmes to encourage horticultural excellence. The national organiser is 'RHS Britain in Bloom', and this is the largest horticultural campaign in the United Kingdom. It was first held in 1963, initiated by the British Tourist Board, based on the example set by Fleurissement de France. It has been organised by the Royal Horticultural Society (RHS) since 2002.
Every year an extensive series of visits are undertaken, by highly-qualified judges, to assess the best parks and gardens vying for the awards. Award candidates represent a large number of outstanding parks and gardens, many public, some private. According to the RHS, the competition is entered by "the communities of many towns, villages and cities". Hundreds of communities around the UK enter each year, participating in their local region's "in Bloom" campaign. From these regional competitions, roughly 70-80 communities are selected to enter the national finals of 'RHS Britain in Bloom'. The awards recognise every entrant's efforts in improving their local environment. Entrants are assessed to a consistent standard with each entry receiving an award that recognises the standard reached. Groups are assessed for their achievements in three core categories: Horticultural Excellence; Environmental Responsibility; and Community Participation.
The most-coveted award level is of course 'Gold – Outstanding' which means the award winner has achieved a judge's positive assessment across all aspects of the garden at a level of 85% and above (this means that overall the garden has received between 170 and (maximum) 200 points, which are awarded for a wide variety of different components of the assessment. This year Warwick Square celebrates achieving a magnificent quadruple; for the fourth year in a row we have achieved Gold – Outstanding status for our beautiful and tranquil garden.
The Warwick Square Company Board directors, and we are sure all our garden users, congratulate Head Gardener Sarah Syborn and her highly-committed colleagues Mandy, Craig and Mike for retaining this major award, and thank them very much for maintaining the high quality of planting and maintenance in our historic Grade 2 garden, admired not merely by our fob holders lucky enough to enjoy it, but nationally by some of Britain leading horticultural experts.